Hey guys! Alphabethon round 4 is upon us! If you don't know what Alphabethon is, it's a readathon based on the alphabet. As I've said in the past,
Alphabethon is a super cool, relaxed, and fun readathon that is designed to help you work through your TBR, one letter at a time. I've joined the team as one of the hosts (which is super exciting), so you'll see me hosting some sprints throughout the week. We are now on Round 4 (oh, how time flies), so the challenges are all based around the letter D. This round will run from October 23-29. Also, as per usual, Michelle (the lovely creator) is giving away a $25 Amazon gift card! All you have to do to enter is post a picture of your D TBR on Twitter or Instagram with the hashtag #alphabethondtbr. Those are the basics, but definitely make sure you check out Michelle's post with all of the hosts and other details as well. 🙂
Alphabethon starts in about… oh, let's see, two hours for me? No worries though, it's never too late to sign up! Any reading is winning. 🙂 Alright, on to the TBR!
Read a book with two D's-
A Discovery of Witches has been on my TBR for absolutely AGES, and I had been considering taking it off, but I've recently heard a few different people talking very highly about it, so I figured this was the perfect time to get into it! This book actually qualifies for 3 different challenges, so I will most likely end up counting it for at least two. However, in the even that I have extra time, I have multiple books picked out for each prompt, so I'll list a different one for each. 🙂
Read a book with a main character whose name starts with D-
I own this book and I'm not going to lie, I know next to nothing about it. I believe she travels through dreams?
Read a book with a D setting-
This is actually free as an ebook and I've had it on my TBR for a while, so I thought this would be the perfect time to pick it up! It's supposed to be super creepy and fairly good, so I'm excited!
Read a book with an object that starts with D on the cover-
I've been meaning to read this for AGES. I will almost certainly bawl my eyes out. I can't wait.
Read a book with 400+ pages-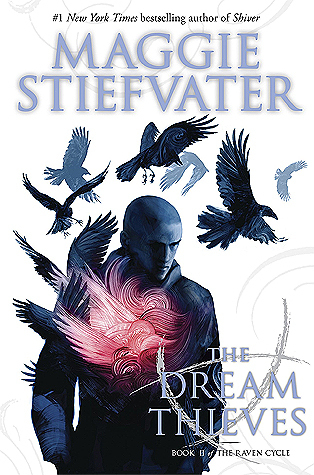 I recently finished my reread of The Raven Boys, so I'm ready to continue with the series and finally read it! I'm so excited to find out what happens with Blue and Gansey etc. 😉
Read a book under 200 pages-
I absolutely love Ally Carter's writing. I just recently read the book that I needed to get to to be caught up to this point in both series, so I think this will be super fun and quick! It was my only D book that was less than 200 pages, so I would have picked something more substantial, but I didn't really have any other options.
Read a horror book-
I own this one now! My cousin was getting rid of her copy, so I decided to pick it up. I REALLY enjoyed the Bad Girls Don't Die series by her, so I've been meaning to read this one for a while. It seems fairly short, but I could be wrong about that. Hopefully not!
---
And that's my TBR! Let me know if you're participating in Alphabethon, and if so, what you'll be reading! I'm super excited and I'm ready to have a great reading week. 🙂 If you're not participating, what are you reading for Halloween (slash any good thrillers)? I always love recommendations. 🙂 Good luck to everyone participating! Don't forget to follow the Twitter so you can keep up with sprints!
With love,
               Amy Lou ❤