Yikes, I haven't done a Down the TBR Hole in, what… Almost a month? Yikes! I definitely need to get back into the swing of things. Let's dive right in, shall we?
It's awesome how well this meme is working for me! I've gotten rid of so many books, and the Spring Cleaning Book Tag that I did a week ago definitely helped as well. 🙂
Okay, to be fair, I keep adding a gazillion-trillion books. But I've stayed under 700 and the number is still going down more than up! If you want to check out my last Down the TBR Hole, you can do so here. 🙂
Down the TBR Hole is a (very) bookish meme, originally created by Lia @ Lost In A Story. She has since combed through all of her TBR (very impressive) and diminished it by quite a bit, but the meme is still open to others! How to participate:

Go to your Goodreads to-read shelf
Order by Ascending Date Added
Take the first 5 (or 10 if you're feeling adventurous) books. Of course if you do this weekly, you start where you left off the last time.
Read the synopses of the books
Decide: keep it or let it go?
Sixteen-year-old Cheyenne Wilder is sleeping in the back of the car while her stepmom fills a prescription for antibiotics. Before Cheyenne realizes what's happening, the car is being stolen.

Griffin hadn't meant to kidnap Cheyenne and once he finds out that not only does she have pneumonia, but that she's blind, he really doesn't know what to do. When his dad finds out that Cheyenne's father is the president of a powerful corporation, everything changes–now there's a reason to keep her.

How will Cheyenne survive this nightmare?
This book looks super interesting and intriguing and I've been wanting to read it for ages; I just haven't gotten the chance yet! This is a definite keep.
Five years ago, Wren Connolly was shot three times in the chest. After 178 minutes she came back as a Reboot: stronger, faster, able to heal, and less emotional. The longer Reboots are dead, the less human they are when they return. Wren 178 is the deadliest Reboot in the Republic of Texas. Now seventeen years old, she serves as a soldier for HARC (Human Advancement and Repopulation Corporation).

Wren's favorite part of the job is training new Reboots, but her latest newbie is the worst she's ever seen. As a 22, Callum Reyes is practically human. His reflexes are too slow, he's always asking questions, and his ever-present smile is freaking her out. Yet there's something about him she can't ignore. When Callum refuses to follow an order, Wren is given one last chance to get him in line—or she'll have to eliminate him. Wren has never disobeyed before and knows if she does, she'll be eliminated, too. But she has also never felt as alive as she does around Callum.

The perfect soldier is done taking orders.
The concept of this book is so incredibly intriguing! The only reason I haven't read this one yet is because I've just been unable to get a copy at a time when I could read it. Keep!
Jonathan is perfectly ordinary. But then—as every good adventure begins—the king swoops into port, and Jonathan and his father are enlisted to find the cure to a deadly plague. Jonathan discovers that he's a prodigy at working with a new chemical called fantillium, which creates shared hallucinations—or illusions. And just like that, Jonathan is knocked off his path. Through richly developed parallel worlds, vivid action, a healthy dose of humor, and gorgeous writing, Heather Dixon spins a story that calls to mind The Night Circus and Pixar movies, but is wholly its own.
The concept of this book sounds quite interesting, but the ratings are surprisingly low and I don't know anyone that's read this. I'm going to say it can go for now, but definitely let me know your thoughts on this one!
Chelsea thought she knew what being a rock star was like… until she became one. After losing a TV talent show, she slid back into small-town anonymity. But one phone call changed everything

Now she's the lead singer of the band Melbourne, performing in sold-out clubs every night and living on a bus with three gorgeous and talented guys. The bummer is that the band barely tolerates her. And when teen heartthrob Lucas Rivers take an interest in her, Chelsea is suddenly famous, bringing Melbourne to the next level—not that they're happy about that. Her feelings for Beckett, Melbourne's bassist, are making life even more complicated.

Chelsea only has the summer tour to make the band—and their fans—love her. If she doesn't, she'll be back in Michigan for senior year, dying a slow death. The paparazzi, the haters, the grueling schedule… Chelsea believed she could handle it. But what if she can't?
The premise of this book is rather cute, but the ratings aren't all that promising, and it sounds a lot like many of the other cutesy YA romances I've read. This one can go!
Stella Gordon is not her real name. Thunder Basin, Nebraska, is not her real home. This is not her real life.

After witnessing a lethal crime, Stella Gordon is sent to the middle of nowhere for her own safety before she testifies against the man she saw kill her mother's drug dealer.

But Stella was about to start her senior year with the boyfriend she loves. How can she be pulled away from the only life she knows and expected to start a new one in Nebraska? Stella chafes at her protection and is rude to everyone she meets. She's not planning on staying long, so why be friendly? Then she meets Chet Falconer and it becomes harder to keep her guard up, even as her guilt about having to lie to him grows.

As Stella starts to feel safer, the real threat to her life increases—because her enemies are actually closer than she thinks…
This book definitely sounds interesting, but the reviews from people I know aren't the greatest. Like, at all. I think I'll give this one a pass and try some other thrillers instead! Go!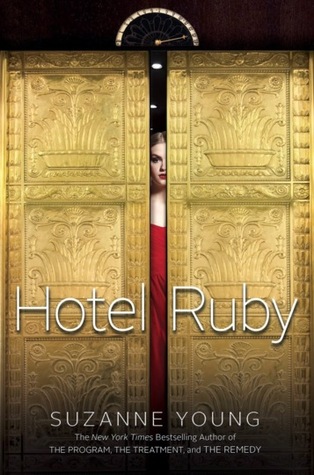 Stay tonight. Stay forever.

When Audrey Casella arrives for an unplanned stay at the grand Hotel Ruby, she's grateful for the detour. Just months after their mother's death, Audrey and her brother, Daniel, are on their way to live with their grandmother, dumped on the doorstep of a DNA-matched stranger because their father is drowning in his grief.

Audrey and her family only plan to stay the night, but life in the Ruby can be intoxicating, extending their stay as it provides endless distractions—including handsome guest Elias Lange, who sends Audrey's pulse racing. However, the hotel proves to be as strange as it is beautiful. Nightly fancy affairs in the ballroom are invitation only, and Audrey seems to be the one guest who doesn't have an invite. Instead, she joins the hotel staff on the rooftop, catching whispers about the hotel's dark past.

The more Audrey learns about the new people she's met, the more her curiosity grows. She's torn in different directions—the pull of her past with its overwhelming loss, the promise of a future that holds little joy, and an in-between life in a place that is so much more than it seems…

Welcome to the Ruby.
I actually own this one, but with the changed title version, Hotel for the Lost. The only reason I picked it up was because I saw the little tiny print at the bottom stating that it was formerly Hotel Ruby, which I had heard of. Most people don't seem to be ALL that excited about this one, but they don't hate it too much either, so since I own it, I think I'll give it a chance. Keep.
Essentially, Pattyn starts having those thoughts about boys, and then her father catches her with one, and it doesn't go well for her. Her family is very religious and abusive, so she has to learn to let go and move on with her life.
I've read a couple of Ellen Hopkins books before and I absolutely ADORE her writing style. However, I have quite a few of her books on my TBR, and as this isn't one that I'm most excited about, I'm going to say this particular book can go for a while at least.
Coraline's often wondered what's behind the locked door in the drawing room. It reveals only a brick wall when she finally opens it, but when she tries again later, a passageway mysteriously appears. Coraline is surprised to find a flat decorated exactly like her own, but strangely different. And when she finds her "other" parents in this alternate world, they are much more interesting despite their creepy black button eyes. When they make it clear, however, that they want to make her theirs forever, Coraline begins a nightmarish game to rescue her real parents and three children imprisoned in a mirror. With only a bored-through stone and an aloof cat to help, Coraline confronts this harrowing task of escaping these monstrous creatures.
This book looks amazing. Everyone loves it. And I want to watch the movie, so why not read the book first? Keep!
Under the streets of London there's a place most people could never even dream of. A city of monsters and saints, murderers and angels, knights in armour and pale girls in black velvet. This is the city of the people who have fallen between the cracks.

Richard Mayhew, a young businessman, is going to find out more than enough about this other London. A single act of kindness catapults him out of his workday existence and into a world that is at once eerily familiar and utterly bizarre. And a strange destiny awaits him down here, beneath his native city: Neverwhere.
This book ALSO looks amazing! I have no idea why I haven't read it yet, and for now, I'm definitely going to say I'll keep it.
Vhalla has always been taught to fear the Tower of Sorcerers, a mysterious magic society, and has been happy in her quiet world of books. But after she unknowingly saves the life of one of the most powerful sorcerers of them all—the Crown Prince Aldrik—she finds herself enticed into his world. Now she must decide her future: Embrace her sorcery and leave the life she's known, or eradicate her magic and remain as she's always been. And with powerful forces lurking in the shadows, Vhalla's indecision could cost her more than she ever imagined.
I've been trying to get a copy for this for so long that it's… Really rather ridiculous. As in, insanely so. But the only person I know who's actually read this book hated it. And I definitely wouldn't appreciate any of the issues she mentioned either. Call me out if I'm wrong, but I think that's a clear sign to finally let this one go.
---
And there you have it! Another week down and… Wait. FIVE BOOKS DOWN??? This is fabulous! 5/10 books down this week, I'm so glad to be getting back into this!
As always, let me know if I'm getting rid of a book I desperately need to read or vice versa; I'd love to hear your opinions on these!
Lots of Love, Amy ❤