And another one bites and another one bites and another one bites the dust-ah!
Hey y'all! I know I just did one of these a couple of days ago, but my TBR hole is just pitifully deep and I can't afford to take a week off! As long as you guys enjoy these, I'll keep doing them. XD Anyhoo, let's just get right into it, shall we? If you want to check out "last week's" post, you can click here!
(P.S. Yesterday I put up my post announcing that I'm a blogger host- meaning I'm hosting a prompt one day of the week that you can join in on- in the Biannual Bibliothon and participating in the 24 in 48 readathon! Make sure to check that out here!)
Down the TBR Hole is a (very) bookish meme, originally created by Lia @ Lost In A Story. She has since combed through all of her TBR (very impressive) and diminished it by quite a bit, but the meme is still open to others! How to participate:

Go to your Goodreads to-read shelf
Order by Ascending Date Added
Take the first 5 (or 10 if you're feeling adventurous) books. Of course if you do this weekly, you start where you left off the last time.
Read the synopses of the books
Decide: keep it or let it go?
Never, ever cry…

Seventeen-year-old Eureka won't let anyone close enough to feel her pain. After her mother was killed in a freak accident, the things she used to love hold no meaning. She wants to escape, but one thing holds her back: Ander, the boy who is everywhere she goes, whose turquoise eyes are like the ocean. And then Eureka uncovers an ancient tale of romance and heartbreak, about a girl who cried an entire continent into the sea. Suddenly her mother's death and Ander's appearance seem connected, and her life takes on dark undercurrents that don't make sense. Can everything you love be washed away?
Now, I don't hate the Fallen series, but I'm not a huge fan of it, and I'm really not interested in this blurb. Like, at all. This one can definitely go!
One summer chasing tornadoes could finally change Jane's life for the better.

Seventeen-year-old Jane McAllister can't quite admit her mother's alcoholism is spiraling dangerously out of control until she drives drunk, nearly killing them and Jane's best friend.

Jane has only one place to turn: her older brother Ethan, who left the problems at home years ago for college. A summer with him and his tornado-chasing buddies may just provide the time and space Jane needs to figure out her life and whether it still includes her mother. But she struggles with her anger at Ethan for leaving home and feels guilty–is she also abandoning her mom just when she needs Jane most? The carefree trip turned journey of self-discovery quickly becomes more than Jane bargained for, especially when the devilishly handsome Max steps into the picture.
This book sounds really interesting, different, and thought-provoking, and I definitely think I could benefit from a read like this! I'll keep this one.
A man waits in Vale, a world void of humanity.

A mother vanishes, her disappearance concealed by the police.

A girl collapses, black magic invading her blood.

And a boy linked to them all must fight to save his family.

Earth is just one of seven worlds. Gateways divide the realms and those who pass through must earn keys, participating in challenges that will separate the fearful from the brave, the weak from the strong, and the witless from the cunning.

Sixteen year old Oliver Knight knows nothing of the other worlds or his family's dark past. But when his adopted sister succumbs to a deadly curse the truth is revealed and he is plunged into an unknown land in a desperate bid to save her. However, a sinister enemy is on the rise and the danger they face at every turn throws those around them under suspicion. In order to survive, Oliver must figure out who to trust, who to believe and, ultimately, who to fear…
I found this author's website a long time ago and read the prologue aaaaand was immediately hooked. The blurb still sounds interesting and I believe I even… Wait for it… Yep, I even have a kindle copy! There's no reason for me not to keep this one!
Finnikin of the Rock and his guardian, Sir Topher, have not been home to their beloved Lumatere for ten years. Not since the dark days when the royal family was murdered and the kingdom put under a terrible curse. But then Finnikin is summoned to meet Evanjalin, a young woman with an incredible claim: the heir to the throne of Lumatere, Prince Balthazar, is alive.

Evanjalin is determined to return home and she is the only one who can lead them to the heir. As they journey together, Finnikin is affected by her arrogance . . . and her hope. He begins to believe he will see his childhood friend, Prince Balthazar, again. And that their cursed people will be able to enter Lumatere and be reunited with those trapped inside. He even believes he will find his imprisoned father.

But Evanjalin is not what she seems. And the truth will test not only Finnikin's faith in her . . . but in himself.
Argh, this is hard! I actually picked this one up from my library quite a while ago and started to read it but never really got into it. However, everyone seems to love it and I was in a reading slump at the time. I think this one deserves another go. I suppose I'll keep it!
Fall's buzzed-about, in-house favorite.

Outside, Anika Dragomir is all lip gloss and blond hair—the third most popular girl in school. Inside, she's a freak: a mix of dark thoughts, diabolical plots, and, if local chatter is to be believed, vampire DNA (after all, her father is Romanian). But she keeps it under wraps to maintain her social position. One step out of line and Becky Vilhauer, first most popular girl in school, will make her life hell. So when former loner Logan McDonough shows up one September hotter, smarter, and more mysterious than ever, Anika knows she can't get involved. It would be insane to throw away her social safety for a nerd. So what if that nerd is now a black-leather-jacket-wearing dreamboat, and his loner status is clearly the result of his troubled home life? Who cares if the right girl could help him with all that, maybe even save him from it? Who needs him when Jared Kline, the bad boy every girl dreams of, is asking her on dates? Who?

Anatomy of a Misfit is Mean Girls meets The Perks of Being a Wallflower, and Anika's hilariously deadpan delivery will appeal to readers for its honesty and depth. The so-sad-it's-funny high school setting will pull readers in, but when the story's dark foreboding gradually takes over, the devastating penultimate tragedy hits like a punch to the gut. Readers will ride the highs and lows alongside funny, flawed Anika — from laughter to tears, and everything in between.
This book sounds so interesting to me and I love the way it's marketed! I've been meaning to read it for ages but just haven't been able to pick up a copy. People seem to have really mixed reviews on it but I think it's worth a shot, so for now I'll say I'm going to keep this one!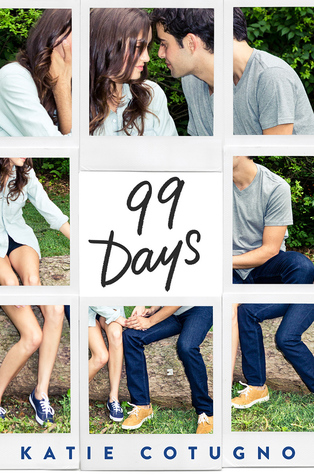 Day 1: Julia Donnelly eggs my house my first night back in Star Lake, and that's how I know everyone still remembers everything—how I destroyed my relationship with Patrick the night everything happened with his brother, Gabe. How I wrecked their whole family. Now I'm serving out my summer like a jail sentence: Just ninety-nine days till I can leave for college, and be done.

Day 4: A nasty note on my windshield makes it clear Julia isn't finished. I'm expecting a fight when someone taps me on the shoulder, but it's just Gabe, home from college and actually happy to see me. "For what it's worth, Molly Barlow," he says, "I'm really glad you're back."

Day 12: Gabe got me to come to this party, and I'm actually having fun. I think he's about to kiss me—and that's when I see Patrick. My Patrick, who's supposed to be clear across the country. My Patrick, who's never going to forgive me.
I love the way this book is marketed, but I did pick up a copy at my library one time, and it just really didn't grab me. It has an extremely low average rating on Goodreads and I just don't think I would enjoy this one. My gut says no, so I'm going to let this one go.
*blah blah blah yada yada spoilers*

It's time for Belly to decide, once and for all, who has her heart forever.
Ooh, this is where it gets interesting. We'll Always Have Summer is the third book in the Summer trilogy by Jenny Han. I quite enjoyed the first two. I don't know that I would say they're my favorite books ever, but I definitely had a good time reading them. But I've forgotten most of the plot, and a lot of people seem to hate this as a series ending. Then again, I'm still interested in this world and the characters, and I want to know how it ends. I'm going to say I'll keep this one.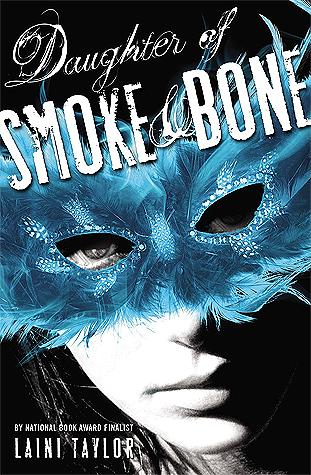 Around the world, black hand prints are appearing on doorways, scorched there by winged strangers who have crept through a slit in the sky.

In a dark and dusty shop, a devil's supply of human teeth grows dangerously low.

And in the tangled lanes of Prague, a young art student is about to be caught up in a brutal otherworldly war.

Meet Karou. She fills her sketchbooks with monsters that may or may not be real, she's prone to disappearing on mysterious "errands", she speaks many languages – not all of them human – and her bright blue hair actually grows out of her head that color. Who is she? That is the question that haunts her, and she's about to find out.

When beautiful, haunted Akiva fixes fiery eyes on her in an alley in Marrakesh, the result is blood and starlight, secrets unveiled, and a star-crossed love whose roots drink deep of a violent past. But will Karou live to regret learning the truth about herself?
Oh, this is so easy for me! KEEP KEEP KEEP. I was super excited to read this book BEFORE I read Strange the Dreamer (also by Laini Taylor). Now that I've read Strange the Dreamer…. I LOVE HER WRITING OMG GOD BLESS HER SOUL AND ALSO PLEASE CAN I HAVE THIS BOOK NOWWWWWW.
Being a kid with wings — constantly on the run — has never been easy, and Max and her flock are getting tenser than ever.

*and more spoilers*
Fang is the sixth book in the Maximum Ride series by James Patterson. I loved the first five. LOVED. But I've forgotten a lot of what happened and it's a really long series! I guess it's just not realistic for me to jump into the series at this point, and honestly don't want to. If I read this book, I'll have to reread the entire series. I do own one of the later books in the series (I found it at Goodwill and couldn't help myself), so I might get rid of that or change my decision later, but for now, I'm going to say this one can go.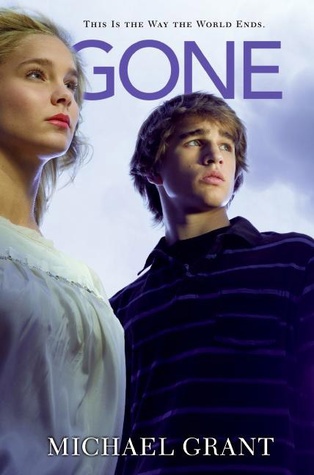 In the blink of an eye, everyone disappears. Gone. Except for the young.

There are teens, but not one single adult. Just as suddenly, there are no phones, no internet, no television. No way to get help. And no way to figure out what's happened.

Hunger threatens. Bullies rule. A sinister creature lurks. Animals are mutating. And the teens themselves are changing, developing new talents—unimaginable, dangerous, deadly powers—that grow stronger by the day. It's a terrifying new world. Sides are being chosen, a fight is shaping up. Townies against rich kids. Bullies against the weak. Powerful against powerless. And time is running out: On your 15th birthday, you disappear just like everyone else…
Okay, can I just say, that cover is HI-DEE-US. But the story sounds super interesting and EVERYONE LOVES IT. I can't say no to that. I'm a fish. I swim in schools. Or in this case, read with the hype. Keep!
---
Aaaaand just like last time, I managed to get rid of 3/10 books that I went through! That's not terrible, but I'm still hoping for a breakout round where I get rid of more than 50%. XD Maybe that's just wishful thinking!
As always, let me know what you think of these books! I'd definitely love to hear your opinion; mine aren't always set in stone! Feel free to do this tag, and if you do, make sure to let me know! I'd love to read it. 🙂 Tell me if you know of any other "unhaul" tags, I'm trying to do more in between my Down the TBR Holes to keep the 700s at bay… 😉
Lots of Love, Amy ❤