As in Wonderland? Get it? Eh? Eh? Eh??? No? Okay.*

I. LOVE. THIS. MEME. So I don't want to miss any weeks of it… Heaven knows it'll take long enough already! Anyhoo, as I mentioned in last week's Down the TBR Hole, I was at camp for a few days, then had one day off, and then was off on vacation! I just got back on Saturday evening. My surgery, however, is Wednesday, and as I have no idea when I'll be feeling up to posting afterwards, I might disappear for a bit. But I will definitely try to get as many of these scheduled as I can! Anyhoo, I'm starting to sound like a broken record. Let's get into the thing, shall we! 😉
*Tiny font courtesy of Analee @ Book Snacks' incredibly helpful post! Thanks Analee!

Down the TBR Hole is a (very) bookish meme, originally created by Lia @ Lost In A Story. She has since combed through all of her TBR (very impressive) and diminished it by quite a bit, but the meme is still open to others! How to participate:

Go to your Goodreads to-read shelf
Order by Ascending Date Added
Take the first 5 (or 10 if you're feeling adventurous) books. Of course if you do this weekly, you start where you left off the last time.
Read the synopses of the books
Decide: keep it or let it go?
Last spring, Nikki Beckett vanished, sucked into an underworld known as the Everneath. Now she's returned—to her old life, her family, her boyfriend—before she's banished back to the underworld . . . this time forever. She has six months before the Everneath comes to claim her, six months for good-byes she can't find the words for, six months to find redemption, if it exists.

Nikki longs to spend these precious months forgetting the Everneath and trying to reconnect with her boyfriend, Jack, the person most devastated by her disappearance—and the one person she loves more than anything. But there's just one problem: Cole, the smoldering immortal who enticed her to the Everneath in the first place, has followed Nikki home. Cole wants to take over the throne in the underworld and is convinced Nikki is the key to making it happen. And he'll do whatever it takes to bring her back, this time as his queen.

As Nikki's time on the Surface draws to a close and her relationships begin slipping from her grasp, she is forced to make the hardest decision of her life: find a way to cheat fate and remain on the Surface with Jack or return to the Everneath and become Cole's queen.
I spent a good fifteen minutes reading over reviews on this one. It's a really tough choice for me! The two Goodreads friends I have that have read it LOVED it, but they read it a few years ago, so I don't know that that would still be the same today. And there's a love triangle. But retelling. But love triangle. ARGH. I don't knowwwwwwww. I'm just going to go out on a whim and say, if I'm not super infatuated with the idea, I'll take it off for now. After all, that's the point of this meme! Let me know if you really loved this one, though. This one can, albeit hesitantly, go.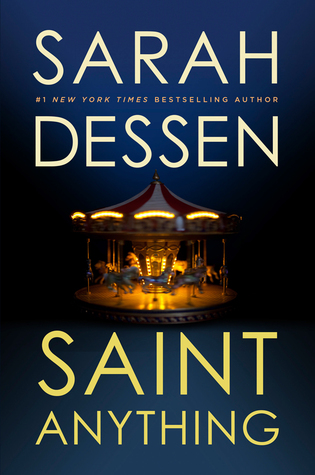 Peyton, Sydney's charismatic older brother, has always been the star of the family, receiving the lion's share of their parents' attention and—lately—concern. When Peyton's increasingly reckless behavior culminates in an accident, a drunk driving conviction, and a jail sentence, Sydney is cast adrift, searching for her place in the family and the world. When everyone else is so worried about Peyton, is she the only one concerned about the victim of the accident?

Enter the Chathams, a warm, chaotic family who run a pizza parlor, play bluegrass on weekends, and pitch in to care for their mother, who has multiple sclerosis. Here Sydney experiences unquestioning acceptance. And here she meets Mac, gentle, watchful, and protective, who makes Sydney feel seen, really seen, for the first time.
Um, this is quite easy for me. As I haven't read ANY of Sarah Dessen's books yet. *covers face* Don't shoot me! I got this one right when it came out and just haven't managed to actually pick it up yet. I own one of her other books, too, but somehow I've just never read them. I'll definitely have to keep this!
When Callie's life is cut short by a tragic accident, she expects to find nothingness, or maybe some version of heaven.

Instead, her spirit travels to the Prism, an ethereal plane populated by the ghosts she thought were fictional. Here she meets a striking and mysterious ghost named Thatcher, who is meant to guide her as she learns to haunt and bring peace to the loved ones she left behind.

However, Callie uncovers a dark secret about the spirit world: The angry souls who always populate ghost stories are real, dangerous, and willing to do whatever it takes to stay on Earth, threatening the existence of everyone she ever cared about.

As she fights to save them, Callie will learn that while it may no longer beat, her heart can still love-and break.
This book still sounds super interesting! I mean, she's DEAD. You can't compete with that. And it's at my library! How convenient! This one can stay. Keep!
When Cora Mason wakes in a desert, she doesn't know where she is or who put her there. As she explores, she finds an impossible mix of environments—tundra next to desert, farm next to jungle, and a strangely empty town cobbled together from different cultures—all watched over by eerie black windows. And she isn't alone.

Four other teenagers have also been taken: a beautiful model, a tattooed smuggler, a secretive genius, and an army brat who seems to know too much about Cora's past. None of them have a clue as to what happened, and all of them have secrets. As the unlikely group struggles for leadership, they slowly start to trust each other. But when their mysterious jailer—a handsome young guard called Cassian—appears, they realize that their captivity is more terrifying than they could ever imagine: Their captors aren't from Earth. And they have taken the five teenagers for an otherworldly zoo—where the exhibits are humans.

As a forbidden attraction develops between Cora and Cassian, she realizes that her best chance of escape might be in the arms of her own jailer—though that would mean leaving the others behind. Can Cora manage to save herself and her companions? And if so . . . what world lies beyond the walls of their cage?
ARGH, I've been wanting to read this book for AGES. SO. BADLY. I actually ordered it from Amazon at one point… Which, for some reason didn't work, and I never got those two books (but they didn't bill me, so it was okay). And then I tried to order it from Book Outlet, buuuuuuut it sold out before I got the chance to order it. EVENTUALLY, I got it for Christmas or my birthday or something from my parents, and somehow I still haven't read it. *facepalm* Anyhoo, I went through enough trouble for this book; there's no way I'm getting rid of it! KEEP!
At first, Jude and her twin brother are NoahandJude; inseparable. Noah draws constantly and is falling in love with the charismatic boy next door, while daredevil Jude wears red-red lipstick, cliff-dives, and does all the talking for both of them.

Years later, they are barely speaking. Something has happened to change the twins in different yet equally devastating ways . . . but then Jude meets an intriguing, irresistible boy and a mysterious new mentor.

The early years are Noah's to tell; the later years are Jude's. But they each have only half the story, and if they can only find their way back to one another, they'll have a chance to remake their world.
The premise of this book is amazing and everyone seems to love it. Plus, I got a free (beautiful hardback) copy from the library! I absolutely have to keep this one.
Act Two, Scene One

*Aaaaand spoilers for Eyes Like Stars*
This book is the sequel to Eyes Like Stars, which I thoroughly enjoyed. However, I read it a couple of years ago, so… I've completely forgotten everything that happened. Even though it was sort of awesome. BUT ALSO it was kind of confusing at the time as well? I'm really not thinking jumping into the sequel would be a wise decision. But memory aside, most people who loved the first book, seem to dislike this one. Or, more frequently, just be confused. And who wants that? I think I should just stop talking and let this one go.
The Hematoi descend from the unions of gods and mortals, and the children of two Hematoi pure bloods have godlike powers. Children of Hematoi and mortals–well, not so much. Half-bloods only have two options: become trained Sentinels who hunt and kill daimons or become servants in the homes of the pures.

Seventeen-year-old Alexandria would rather risk her life fighting than waste it scrubbing toilets, but she may end up slumming it anyway. There are several rules that students at the Covenant must follow. Alex has problems with them all, but especially rule #1:Relationships between pures and halfs are forbidden. Unfortunately, she's crushing hard on the totally hot pure-blood Aiden. But falling for Aiden isn't her biggest problem–staying alive long enough to graduate the Covenant and become a Sentinel is.

If she fails in her duty, she faces a future worse than death or slavery: being turned into a daimon, and being hunted by Aiden. And that would kind of suck.
This book sounds… Sort of interesting…. I just read some reviews, particularly Cait's (Paper Fury), who honestly didn't like it. And I don't like any of the things she talked about either. Why go on when I could stop right there? I'll let this one go.
The kids from Mr. Terupt's fifth- and sixth-grade classes are entering their first year of junior high school. There's a lot to be excited about, but there are new challenges, too. Peter and Jeffrey face tough competition on their wrestling team. Alexia has a disastrous first day of school, and that's only the beginning. Anna is desperate for Charlie to propose to her mother—what is he waiting for?! Danielle isn't feeling so well, but she's trying to tough it out, like Grandma. Trouble with a bully makes Luke dread going to school for the first time ever. And Jessica is waiting anxiously for an acceptance to a theater retreat in New York City.
Everyone is missing Mr. Terupt. When a fight threatens to break up the group forever, they think their favorite teacher is the only one who can help them. But the kids soon find out that it's Mr. Terupt who needs saving.
OKAY MR. TERUPT I LOVE YOU. I haven't read the first two books in ages, but I got the first one at… My library's sale? I think? And I loved them when I originally read them. I definitely need to keep this one, and reread the first two while I'm at it!
Four decades of peace have done little to ease the mistrust between humans and dragons in the kingdom of Goredd. Folding themselves into human shape, dragons attend court as ambassadors, and lend their rational, mathematical minds to universities as scholars and teachers. As the treaty's anniversary draws near, however, tensions are high.

Seraphina Dombegh has reason to fear both sides. An unusually gifted musician, she joins the court just as a member of the royal family is murdered—in suspiciously draconian fashion. Seraphina is drawn into the investigation, partnering with the captain of the Queen's Guard, the dangerously perceptive Prince Lucian Kiggs. While they begin to uncover hints of a sinister plot to destroy the peace, Seraphina struggles to protect her own secret, the secret behind her musical gift, one so terrible that its discovery could mean her very life.
Everyone and their pet dragon has read this book. And most people seem to enjoy it! The idea of it sounds pretty fantastic to me. You can never get enough dragons, am I right? Keep.
Marguerite Caine's physicist parents are known for their groundbreaking achievements. Their most astonishing invention, called the Firebird, allows users to jump into multiple universes—and promises to revolutionize science forever. But then Marguerite's father is murdered, and the killer—her parent's handsome, enigmatic assistant Paul— escapes into another dimension before the law can touch him.

Marguerite refuses to let the man who destroyed her family go free. So she races after Paul through different universes, always leaping into another version of herself. But she also meets alternate versions of the people she knows—including Paul, whose life entangles with hers in increasingly familiar ways. Before long she begins to question Paul's guilt—as well as her own heart. And soon she discovers the truth behind her father's death is far more sinister than she expected.
Well, I own this book, everyone seems to have read it, most of them at least mildly liked it, and that cover is going to make me cry from its beauty. I'll definitely keep this one!
---
Weeeeeeeeell, so much for my 50% streak! I was only able to get rid of 3/10 books this week. That's… Not depressing at all! I keep adding so many books to my TBR. Stop it, hand! I said no more books!
In any case, although I broke my streak, I still got rid of a few books, and as always, 30% is better than nothing! 😉 Wish me better luck for next week! Let me know if you've read any of these books, if I've made a grave mistake getting rid of a book, or vice versa! And if you decide to pick up this meme for yourself, do let me know! I'd love to see it. 🙂
Lots of Love, Amy ❤