Hey guys! As most of you know, I've been posting rather sporadically for the past couple of months. However, I most definitely did not stop reading, and as a result, I'm EXTREMELY behind on my reviews. Since many of the books I read at the time were for the COYER challenge, a lot of them were also review requests and ARCs, so it's definitely important to me that I do review them. However, even if I reviewed a book every day, it would still take me ages to catch up. And thus, Nano-notes is born! I want to write mini reviews for a group of books in some kind of category, and keep it around 250 words! Today's topic is….
Also, please let me know what you think of my collages! Would you like to see more? Which is your favorite? Let me know in the comments! 🙂
Lo-Melkhiin killed three hundred girls before he came to her village, looking for a wife. She knows he will want only the most beautiful girl, which will surely be her sister. And so she devises a trick, that he might take her instead. She arrives at the palace already mourning the loss of her own life. But her first night passes, and she is not dead. Night after night, she tells her stories, and each night, Lo-Melkhiin allows her to live to one more sunrise. As she starts to explore the palace, she begins to realize that Lo-Melkhiin was not always this way. She begins to spin, slowly learning that she can create things. At first, it is only small things. But her power grows every day, so much that she begins to believe in her magic, realizing that if she can only live long enough, she might have enough magic to save even a king.
The writing in this book is just so magical.
A horse can get you somewhere quickly, but you cannot carry very much with you. A camel will take its time, but it will also carry your house if you ask it nicely enough.
The narrator has such a beautiful, well-thought-out voice. The fact that the only (main) character given a name is Lo-Melkhiin only adds to this feeling. It seems strange that this is the case, for as the book goes on, it certainly feels like you know the characters quite well. But their names are never revealed.
But I would rather be patient and learn things in their own time, than force knowledge where it causes destruction.
The family dynamic was… interesting?
Obviously, the characters in this book live in a very different society than we do today. Her father has two wives, and she does talk about her sister's mother quite often, and fondly, although she is closer to her own mother. Her father has only spoken to her and her sister a few times, and it is not very obvious to them whether he loves them for a good part of their lives. However, the whole (tribe? clan? I don't remember!) tribe spends time together and works together. It makes for a very interesting dynamic and feel to the relationships in the book, and it was rather difficult for me to relate to. I was never really sure whether the multiple wives were happy? I hope so!
Overall rating: 5/5 stars!
"Men pray in the morning and in the evening," I said to him. "In the heat of the day, they speak to one another. They trade and they talk and they drink cool water. "Women pray waking and walking and working," I said to him. "They pray with the spindle's drop and the shuttle's shift. They weave their words into the warp and the weft of the cloth they make, and they send that cloth out into the world where everyone can see it, and remark upon its beauty." "That would wake the dead," said Sokath, His Eyes Uncovered. His voice was breathless with awe. "I cannot imagine what it would do to the living." "To a living woman," I said to him. "To a woman who saved a sister who loved her," he said to me. "And saved all the other girls in her village. And came to the qasr. And did not die in the night."
---
And you thought the stepsisters were wicked….

I'm not who they think I am. A docile girl who meekly obeys her stepmother and stepsisters. Some kind of sick angel who cheerfully bears their mistreatment. That's what I WANT them to think. Because then they won't suspect what I'm really up to.

The ball, the prince – it's all part of my plan to come out on top. Stepmother and her demented daughters will pay for every floor I have scoured, every sneer I have borne. They don't know about the white magic, how I use it to enhance myself. They can't see that my heart is black as midnight, rotten as a poisoned apple.

They're about to find out.
This book is so different.
Ironically, with its "dark" title and story, it has a very light, easy writing style. It's so intriguing to see Cinderella as someone who is, er, not the purest of souls. She acts sweet and helpful around her stepmother and stepsisters because her fairy godmother gave her an incentive to do so: a serum that would let her become whatever she wanted. Cinderella being evil, she has obviously abused this gift. She uses it in small doses, to slowly but surely make herself stunningly beautiful. She used to be a rather normal-looking girl, but with the help of the serum, she has become impossibly gorgeous, and turns heads just by walking down the street.
You rejected a little girl who just wanted to be loved and made her walk a path of loneliness. There are no words for that kind of cruelty. You utterly disgust me.
The revenge motive was intriguing!
It makes a lot of sense that Cinderella would be driven by her desire for revenge on her step-family. In the Disney version, she is somehow absolutely pure of heart, and even after the slavery her steps have put her into throughout the years, she still feels sorry for them, and simply wants to meet the prince and go to a beautiful ball. It makes so much more sense that she would hate her steps, and go after the prince with intentions of revenge. And I just have to say; that ending was brilliant!
Overall rating: 5/5 stars!
---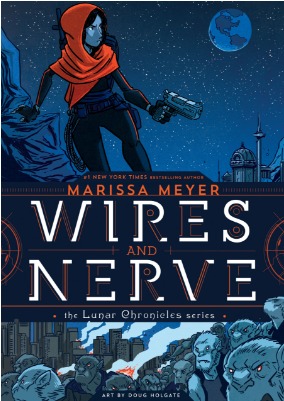 In her first graphic novel, bestselling author Marissa Meyer extends the world of the Lunar Chronicles with a brand-new, action-packed story about Iko, the android with a heart of (mechanized) gold. When rogue packs of wolf-hybrid soldiers threaten the tenuous peace alliance between Earth and Luna, Iko takes it upon herself to hunt down the soldiers' leader. She is soon working with a handsome royal guard who forces her to question everything she knows about love, loyalty, and her own humanity. With appearances by Cinder and the rest of the Rampion crew, this is a must-have for fans of the bestselling series.
***SPOILERS FOR THE ORIGINAL LUNAR CHRONILES***
OMG IKO!!!!!!!!
When I heard about this book, I got so excited. So of course, when I saw it just sitting on the shelf at my library, I had to take it! I LOVE Iko. She's so awesome and so relatable (is this not a word??? what?????), especially considering she's an android! I appreciate how this book is in a different format (graphic novel) and tells a different kind of story (from Iko's point of view) than the original series. It definitely helps keep the content fresh and interesting. And speaking of the whole graphic novel thing…
The drawings are FANTASTIC!!!
Most of the characters look extremely similar to how I pictured them, not including Kai (No idea why, he just looks strange to me). They definitely add an amazing element to the story.
All of my babies are just… Sigh.
I love the whole gang! Cinder is totally awesome, obviously doing well taking care of the kingdom. Kai and Cinder are so blushy talking about each other, which is totally hilarious. Cress and Thorne are just plain goofy. Their romance always puts a smile on my face. Winter is so supportive, and Jacin is entertaining. Scarlet and Wolf are WAY TOO CUTE. TOO MUCH. My poor heart. And of course Iko is so lovable!
The story is fabuloso!
Iko is never recognized for her part in the gang because she's an android, so she understandably feels lost and out of place. It's bittersweet to watch her trying to make herself known!
Overall rating: 5/5 stars!
---
Okay, that was long. Sorry about that guys! I'm still working on it. Feel free to leave me tips down below!
Have you read any of these books? Plan to? Thoughts? Have I swayed your opinion on any of them? What did you think of the idea of nanonotes? Let me know down in the comments, I'd love to hear from you! 🙂
Lots of Love, Amy ❤
Save