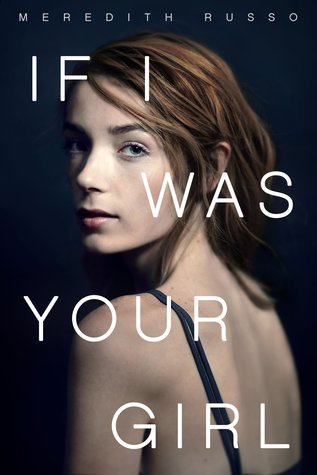 Rating: 5/5 stars
Genre: LGBT Young Adult Contemporary
Published: May 3rd, 2016
This is a review for the COYER challenge!
Amanda Hardy is the new girl in school in Lambertville, Tennessee. Like any other girl, all she wants is to make friends and fit in. But Amanda is keeping a secret. There's a reason why she transferred schools for her senior year, and why she's determined not to get too close to anyone.

And then she meets Grant Everett. Grant is unlike anyone she's ever met—open, honest, kind—and Amanda can't help but start to let him into her life. As they spend more time together, she finds herself yearning to share with Grant everything about herself…including her past. But she's terrified that once she tells Grant the truth, he won't be able to see past it.

Because the secret that Amanda's been keeping? It's that she used to be Andrew.
I had heard about this book quite a bit, with mixed reviews.
I needed something to read for Around the Year in 52 Books' "something from the 2016 Goodreads Choice Awards" challenge, and I'd been meaning to read If I Was Your Girl anyway, so I decided to try it!
I've never read a book with a trans character.
At least, I don't believe I have. Let me revise that.
I've never read a book with a transgender protagonist.
And it's #ownvoices, too! Like many of you, I learn a lot through reading. It may not be something that has actually happened, but what is written in fictional books is no less genuine of a heartbreak, feeling, or just an interesting topic (whoa, grammar police!). I've not been against trans people in the past; I simply did not really understand them. This was a beautiful introduction into the world of someone who feels like they're in the wrong body; someone who doesn't feel as comfortable being "themselves" as you or I might.
Granted, it was not the most realistic portrayal ever.
I assumed it probably wasn't the most realistic story ever. However, at the end of the book, the author wrote a note to the reader explaining why it wasn't. And I SO appreciated that. It allowed me to enjoy (read: love) the story and its characters for all it was, and still not be misguided by a few of the portrayals.
Another thing that caught my eye…
The author also mentioned that just because he was interested in Amanda, a trans girl, did not make him any less straight or a man. I had briefly wondered about that sometime in the past, and I so appreciate her saying that. It makes sense, after all: if you're dating someone who identifies as a woman (trans or not) and you are attracted to women, well, that fits right under your radar, now doesn't it?
As for the romance itself!
I loved how it all played out, and everything that happened was so cute. Although at one point I was a bit confused and thought Amanda had come out, I think that was due to my own misreading, because when I looked back on it, it was more obvious.
Of course, it's always nice to have some great friends.
Who are present. In the story. And accepting. Sometimes a good friendship actually warms my heart more than a romance ever could, because friends are the best, am I right?
Overall, this was just a wonderful story.
I could not put it down, and it was actually quite a short read! I got through it very quickly. I would definitely recommend this to someone who doesn't read/know a lot about trans characters, as well as anyone else (of course) who would like to give this a shot! 🙂
Have any of you read this book? Plan to? Thoughts? Any recommendations for me with trans characters? I need to broaden my horizons! Let me know down in the comments, I'd love to hear from you! 😉
Lots of Love, Amy ❤
Goodreads | Amazon | Book Depository
Save