Hello out there! Some of you may have been thinking that I wasn't going to do a 2016 wrap-up, as it is already almost (oh boy) a couple of weeks in to the new year. However, I still thought I would do a wrap-up survey, and then at the very end of the year, I was tagged for this! Thanks so much to Eve @ Eve Messenger's Otherwordly Endeavors for tagging me to do this! I appreciate all the conversations and recommendations you've given me in this past year. You're such a great blogging friend! Cheers to the year to come! 🙂 Alright, without further ado, I present to you the Best of 2016:
Favorite New Author
I looked through my 2016 Year in Books for this one, and it doesn't appear that there's an author that I started last year that I read more than one book for! (And loved both- because I did find one, but I hated one and loved the other) So, that in mind, I have to go with Katrina Leno! I read her second book, The Lost and Found, and immediately fell in love. It was so cute and amazing, and I actually talked a bunch with her on Twitter… Before realizing she was the author of that book! It's always cool to realize that authors are people too, and sometimes pretty interesting ones! XD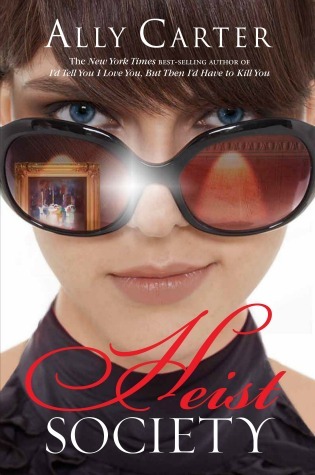 Favorite Series
I've got to go with the Heist Society series by Ally Carter! I've read the first two books in the series so far, and I just love her writing style. It's so fun, quick, and easy, and I always enjoy seeing how she's going to get out of a twist.
Books So Fun They Felt Like Reading Parties
It's All Your Fault was just so hilarious. Caitlin is the definition of "good, Christian, homeschooled girl". Her cousin and ex-best-friend, Heller, is determined to change that status. And of course, succeeds. I LOVE IT.
I read the second and the third book in the Geek Girl series this year, and of course anything in that series is just golden cuteness.
At the beginning of December, I finally got around to reading My Lady Jane, and I'm so glad I did! For some reason, I got the total wrong impression about the book. I thought it was some kind of stuffy historical fiction…. Um, no. This book is absolutely hilarious and I just couldn't get enough of it.

Best World-Building
This is really a no-brainer for me, even though it's a repeat of one of Eve's choices. The world-building in A Darker Shade of Magic was just splendid, and it really made the entire book.

Favorite Indie Series
Supremacy by Christin Lee is the first book in a series, but I didn't read any more than one book in an indie series this year! However, I really enjoyed this book, and I think it had an excellent set up for the next book.
Honorable Mention: Diamond Bonds by Jeff Kish

Best Female Protagonist
This was an extremely close call between four books, so the other three are definitely worth a look! I had to go with Samantha from Before I Fall because I hated her in the beginning, but I loved watching her grow as a person as the book went on, and the ending was just… Okay, I can't talk about it. I'm tearing up. Omigosh, moving on!
Best Male Protagonist
With the girls, I had a hard time, but with these three, I refuse to choose (hey, that rhymed)! All three of these books were so amazing, and I will never forget any of these boys. I want to give them all a big ol' group hug. Therefore, this three-way tie has to go to Steven from Drums, Girls, and Dangerous Pie, Aaron from More Happy Than Not, and Charlie from The Perks of Being a Wallflower!

Best Setting
Winter by Marissa Meyer was set on Luna, and although the "planet" was basically in shambles, I thought it was super cool, and I loved reading about the place and how it worked.
Honorable mention: A World Away by Nancy Grossman

Favorite Plot Twist
Nothing more can be said about this because SPOILERS!!! But Identical by Ellen Hopkins had such a fantastic plot twist. I didn't like the beginning of the book all that much, but the ending redeemed itself and made me want to read more by her (which I actually did- hopefully my review for The You I've Never Known will get up eventually)! 🙂

Best Cover
I had a really hard time deciding on this one, but I think I'm going to have to go with 5 to 1 by Holly Bodger. I can't even do honorable mentions…. The list would never end!

Most Devastating Read
Ah, this one was really hard too! I read a lot of devastating books last year. Is that bad? I had to pick The Strange and Beautiful Sorrows of Ava Lavender because… Well, if you've read the book, you know. If you don't, READ IT.

Favorite Audiobook
Pride and Prejudice by Jane Austen is an obvious choice because, well, I didn't listen to very many audiobooks. And really, can you go wrong with Pride and Prejudice? It's such a sweet story. 🙂

Best Small Press Stand-a-lone
I absolutely ADORED Just Juliet by Charlotte Reagan. However, when I was looking up Inkitt (to see if it was considered small press, because I know no terms, I'm just cool like that- I decided it was, so hopefully that's right), I saw a lot of hate and claims that Inkitt was all spam and terrible? No one should work with them, what they are doing is wrong, etc.? Does anyone know more about this? 'Splain to me? Do you agree??? IN ANY CASE. I love this book, and whether or not the publisher is sketchy absolutely doesn't have anything to do with it. I still love the story. 🙂

The #1 Book No One Else Seems to Like But Me
EVERYONE HATES THE ACCIDENT SEASON. I mean, really. EVERYONE. But I really loved it! It was haunting and gorgeous and ultimately amazing. So yes. I must be an alien. Or, you know, the rest of the planet is aliens, and I'm just the little human? Okay, no. Scary thought. *banish you*
I hope you all enjoyed reading about my best of 2016! If you haven't done some kind of wrap-up already for 2016, I tag YOU to do this! Yes, you! Really, don't feel shy. I'd love to see what you'd come up with! Let me know if you do this. 🙂 Thanks guys! *mmmwah*
Have you read any of these books? Plan to? Thoughts? Tell me about Inkitt? Did you like The Accident Season??? I want to hear about your best of 2016!
Lots of Love, Amy ❤
Save
Save