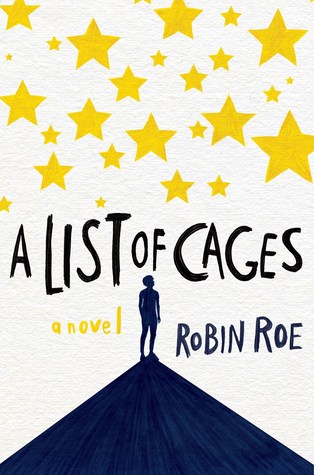 Goodreads | Amazon | Book Depository
I received a copy of this book from Netgalley in exchange for an honest, unbiased review.
Rating: 100000000000000000000000000000000000000/5 stars
Genre: Young Adult Contemporary
Publication date: January 10th, 2017
Trigger warning for: Physical abuse. As in, really, be warned. You will sob. A lot.
This is a review for the COYER challenge!
When Adam Blake lands the best elective ever in his senior year, serving as an aide to the school psychologist, he thinks he's got it made. Sure, it means a lot of sitting around, which isn't easy for a guy with ADHD, but he can't complain, since he gets to spend the period texting all his friends. Then the doctor asks him to track down the troubled freshman who keeps dodging her, and Adam discovers that the boy is Julian–the foster brother he hasn't seen in five years.

Adam is ecstatic to be reunited. At first, Julian seems like the boy he once knew. He's still kindhearted. He still writes stories and loves picture books meant for little kids. But as they spend more time together, Adam realizes that Julian is keeping secrets, like where he hides during the middle of the day, and what's really going on inside his house. Adam is determined to help him, but his involvement could cost both boys their lives. (Goodreads)
YOU GUYYYYYYYYYYYYYYS I'M GOING TO CRY. AGAIN.
At the time of my writing this (January 4th), I've just finished this book today. I started it at one am… And I just couldn't stop. Really. I told myself I would stop at two… Then 2:30… Then at 3 I put my foot down. I couldn't read anymore. I took out my contacts and then read some more until 3:30… 3:33… 4:00…. I still wasn't tired and I only had half an hour left, but I knew I was going to have to wake up at least before 10 (spoiler alert: I was not the perkiest person ever the next day) and I wanted to make sure I read some of it in the daylight, in the hopes that my review would be semi-coherent. #fail
I thought this book was middle-grade?
For some reason, I just expected that going in to the book. Then the book started with Julian's POV, so it still sounded very middle-grade-ish. And then I realized they were in high school, and things that would be… not suitable for middle grade started happening. I was surprised, to say the least. I thought this was going to be a cute middle grade book. If you're still somehow thinking that, THROW THAT THOUGHT OUT THE WINDOW. WRONG.
I loved all of my babies characters.
Adam was hilarious, and I loved hearing about his bubbly person. We all know that one person who talks to everyone, is friends with everyone, is happy all the time, and literally cannot stop spilling over happiness. Adam is that person, and I loved watching all of the relationships he had with his friends progress as the book went on and I got to know them all better.
Julian makes me cry. Even though I love him. He just makes me cry. I'm guessing he has autism and/or social anxiety, or summat like that. When he was little, his mom always told him that mean people weren't really mean, only unhappy. She meant this one boy who always picked on Julian, but Julian continued to apply that to everyone in his life from then on forward. Even when people were the most horrible they could possibly be to him, he always knew they were unhappy, and he didn't hate them. He pitied them, and only wanted to help them. He was so sweet and… Oh my gosh I'm about to cry. HOW CAN A PERSON BE THAT WONDERFUL AND YET SO UNNOTICED.
As for the plot, I mean…
It was perfectly executed to rip my heart out. Basically, Julian's parents died in a car crash when he was younger, and Adam and his mom became Julian's foster family. Then Julian's uncle showed up, and they weren't allowed to see him anymore. Until Adam gets assigned to him at school. I can't even talk about the rest of the book without major spoilers. Or crying. I'M SORRY GUYS. YOU WILL CRY READING THIS BOOK. JUST GO WITH IT.
I can't words right now.
This book reads so fast, just like middle grade, and it reads beautifully and simplistically. It manages to cover so many important topics in a realistic manner (translate: while you cry) and then while you're trying to mop up your tears, it sends so much love and cuteness at you that your heart just squeezes so hard it hurts and you very badly need to hug something. And quite possibly stop breathing for a few seconds and close your eyes because the cuteness and loveliness of it all is too much to handle. (Or, you know, maybe that's just me)
What are you still doing here? Stop reading this post. Go get this book.
It comes out tomorrow. Consider this an early birthday present. (Or late, whichever) Buy yourself this book… As a present from me. (Yes, of course that makes PERFECT sense!) And then read it and love it and cry and come tell me because OF COURSE that will happen. Now go. Shoo. Really, how dare you still be here reading this? GO BUY IT. GOODBYE.
(P.S. Thanks for reading this roller coaster of a review! If you've already read it, TELL ME AND TELL ME WHAT YOU THOUGHT AND WE CAN DISCUSS SOBBY FEELS TOGETHER.)
Lots of Love, Amy ❤
Save