The Six Degrees of Separation meme was inspired by Hungarian writer and poet Frigyes Karinthy. In his 1929 short story, Chains, Karinthy coined the phrase 'six degrees of separation'. The phrase was popularised by a 1990 play written by John Guare, which was later made into a film starring Stockard Channing. Since then, the idea that everyone in the world is separated from everyone else by just six links has been explored in many ways, from 'six degress of Kevin Bacon' to the science of connections. And now it's a meme for readers. On the first Saturday of every month, a book is chosen as a starting point and linked to six other books to form a chain. Readers and bloggers are invited to join in by creating their own 'chain' leading from the selected book.
I found this meme rather recently, and was immediately captured. It's such a fun idea, and I totally love the process. Basically, you start off with the chosen book for that month, and connect a book to it in some way, no matter how obvious or obscure that connection may be. Then you connect another book to that book, and so on and so forth, until you've gotten to six other books: seven total. The beginner for this month is The Girl With the Dragon Tattoo! So without further ado, let's get started, shall we?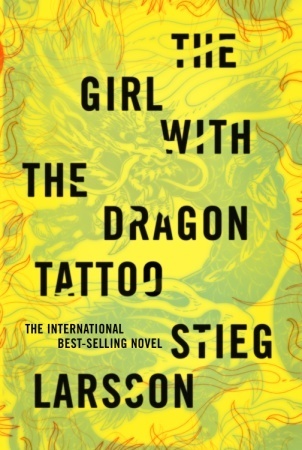 The Girl With the Dragon Tattoo is so extremely popular, and everyone always labels it as a must-read. However, I've never read it! I don't even know what it's about (bring on the guilt, guys). Which brings us to…
A book that I didn't know anything going into! The Princess Saves Herself in this One (which I have read- the review will be published closer to the rerelease date) was an interesting read. It was different from anything else I've read before. It was intriguing, sad, and heartbreaking. And it won for its genre in the Goodreads Choice Awards!
Before it won the Goodreads Choice Awards, I had not even heard of Salt to the Sea! I'm still wondering how that's possible. I mean, it won! Anyhoo, after learning that it had won, I definitely had to check it out, and it looks amazing! It's a historical fiction that takes place during World War II. A lot of the time, I feel like historical fiction is just… Dusty. But sometimes it really surprises me, such as…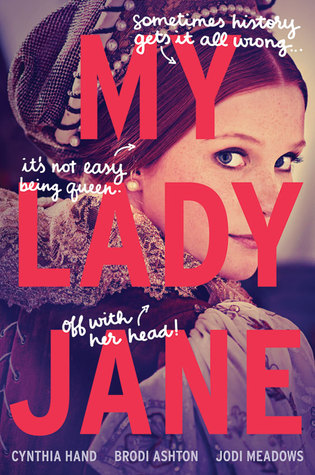 My Lady Jane was amazing. It followed the story of Lady Jane Grey (obviously), who became Queen of England for exactly 9 days before she was beheaded. Which, of course, is an intriguing story to start with. But throw in some magic and some very not dusty personalities and humor, and you'll get some fantastically hilarious moments. Or, you know, a whole book worth. The beginning was based loosely off of Lady Jane's story, but after that, history went out the window. Much like…
I enjoyed the Missing series by Margaret Peterson Haddix quite a bit when I first read them! The first couple of books were pretty put together, and as the story progressed and things became more "messed up", per se, the books got confusing and ever more intriguing. However, the series ended up being really long, which was confusing, and eventually I gave up on the books altogether. Basically, it took stories of missing children in history and, er, explained it. They were really good, and I'd definitely like to try them again sometime! And with the mention of time travel (what? Did I say time travel?), I have to link to…
Way back when (haha I make myself sound so old), I somehow got a copy of Time Between Us (I have no idea how). Basically, Anna lives in 1995 Chicago, and Bennett 2012 San Francisco, and yet they fall in love. They must beat all of the odds to be together. And, you know, 17 years. Time Between Us was published in 2012, which brings me to my final "degree":
The Pregnancy Project by Gaby Rodriguez was also published in 2012. (Before I I sorted my books on Goodreads, I didn't realize how many "old" books I've read!) This book was so intriguing, and actually inspired me to read more nonfiction. For Gaby's senior project, she pretended to be pregnant and kept the secret from all but a select few. It is such an interesting idea and it is insane to me that this actually happened!
And that is the end of my attempt at the #6degrees meme! Hope you all enjoyed this cute little quirky meme. I mean, I got from The Girl with the Dragon Tattoo to the Pregnancy Project. I think that's success. XD
Have you ever participated in this meme? Plan to? If you have, please leave a link in the comments; I'd love to see it! Have you read any of these books? Plan to? Thoughts? What is The Girl With the Dragon Tattoo actually about? I still don't really know. Oops! Let me know down in the comments; they always make my day! 🙂
Lots of Love, Amy ❤