Pineapple? What? Noooooooo. How did that get there? (Up top if you got the How I Met Your Mother reference!)
"Helloooooooo? Anybody home? Nope? OKAY, I'M GOING TO POISON YOUR HOUSE."
Sike! Or, well, not really, because that totally happened in this book. THIS IS A REVIEW, CAN YOU TELL? (It's also Amy- you could probably figure that out too, by the amount of craziness in the FIRST TWENTY WORDS.)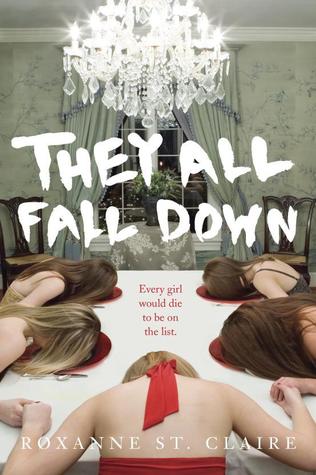 Every year, the lives of ten girls at Vienna High are transformed.

All because of the list.

Kenzie Summerall can't imagine how she's been voted onto a list of the hottest girls in school, but when she lands at number five, her average life becomes dazzling. Doors open to the best parties, new friends surround her, the cutest jock in school is after her.

This is the power of the list. If you're on it, your life changes.

If you're on it this year? Your life ends.

The girls on the list have started to die, one by one. Is it a coincidence? A curse? Or is the list in the hands of a killer?

Time is running out for Kenzie, but she's determined to uncover the deadly secret of the list…before her number's up. (Goodreads synopsis)
First of all, I totally thought that the girls on the cover were lying in a puddle of their blood, and apparently a lot of other people did too. But look closer- it's just red plates! (Blood would be cooler, but oh well.) In any case, I gave They All Fall Down 4.5/5 stars on Goodreads, with this review:
4.5 stars! I will probably do a full review of this one on my blog- It was a super interesting concept, but I was worried about it falling flat. However, that was definitely not the case! And I did NOT see that twist coming!
I got this book for $4 on Book Outlet, and my expectations were not very high. The synopsis sounded interesting, and it has fairly good ratings on Goodreads, but for some reason, I just did not expect this book to be amazing. Since it was $4… I bought it anyway. Fortunately, I ended up enjoying it quite a bit! I really appreciated Kenzie's rejection of the list, and her refusal to ditch her best friend for people who probably didn't even know her name before she was put on it.
So… There was a bit of a love triangle, but it was over pretty quickly, and there was an obvious winner. Josh (I think) is the cute jock that she's had a crush on forEVER, and Levi is the bad boy with a terrible (and even murderous) reputation that nobody likes. Semi spoiler- I HEART LEVI. AS IN, A LOT. THEY ARE SO CUTE TOGETHER. (Thanks so much Michelle for showing me how to do "spoiler" sections!) In any case, I liked the realistic feel to the book, even though there were some outrageous plot turns. It did get pretty crazy, but I just went along with it, and I really had no idea why they were dying! I DID NOT SEE THAT TWIST COMING. AT ALL.
All in all, I really enjoyed this book, as it was a fast-paced mystery (with a time limit, since the person solving the case could potentially die first) with an adorable romance and realistic aspects. I'd definitely recommend it!
Have you read this book? If so, what did you think? Have you heard of it, or plan on reading it? Have I convinced you to read it, or not to read it? Leave a comment, I won't murder you bite!