Hey, guys! I'm sorry I've been neglecting this for the past few weeks, but the summer might be even busier for me than the school year! How warped is that?!?! I know, poor Nikki. But don't pity me just quite yet, or the jokes on you because… while I was gone I took the time to pick up some new gear. Shadowhunter gear.
What'd ya think?! Pretty bad-butt, huh? (I don't cuss. I do, however, sound like a five-year-old. Embrace it. Live it. Love it.) I bet you're wondering why I borrowed this lovely gear from my new friend, the one, the only, Clary Fray. Well, I'm gonna' tell ya so don't poop 'yer pants. (I said 'poop', hehe. Man, gotta' love Nikki the Five-Year-Old.) For those of you mature enough to stop rolling around on the floor, because you collapsed there after I said the word, 'poop,' the gear is for protection against the raw eggs you guys plan on throwing at me because I'm just so darn Corny with a capital 'C.' I'm special, guys. Special.
Sorry, guys. I keep bursting song with and getting distracted by the wonderful Glee music I'm listening to. By the end of the summer I want to master the songs Defying Gravity from the musical Wicked, and Don't Rain on My Parade from the musical Funny Girl. Just like Rachael.
She's my favorite. And she's soooo pretty. I love her voice sooooooo much! They should make a TTT for your Top Ten Favorite Glee Character… Oh, right! TTT! That's what I was doing! Sorry, I told you it was distracting!
Anyway… This week's topic is Top Ten Books On My TBR For Summer 2015! Okay, this is soooooo hard for me. Well, they all are, but this is special! Understood? Get it? Got it? Good. Moving on. Finally. For real this time. I mean it. Good-bye. See 'ya later!
Just kidding! I'M BBBBAAAAACCCCCCKKKKKKKK!!!!!! You can't get rid of me! MWAHAHAHAHAHA! Okay, as much as it pains me to do so, instead of rambling about stupid stuff, I'm going to talk about what I'm actually supposed to talk about.
Okay, so like Amy said in her post, I cannot possibly just choose ten, so I'm going to do the first three that I'm dying more than ever to read and then the rest in the order of what I've already checked out or have placed a hold one that I want to read the most. Still a hard choice, but more bearable.
(These first two are super obvious and everyone needs to have them on their TBR or I will hunt you down and… *stops talking Amy puts a gag over my mouth and tells me it's probably better not to threaten the followers* I hate when Amy's right. Sigh.)
1. The Heir (Duh! Honestly, you don't know me if you didn't expect this!!!)
I love, love, love The Selection series, and America and Maxon are definitely the OTP. Their romance is one of the best of all time, in my expert opinion. I'm such a sucker for a good romance. Who isn't? America and Maxon are some of my best friends (in my dreams). If their daughter, Eadlyn, is anything like her parents, then I'm sure I'll love her just as much! Mwa! Mwa! Read up, chillens!
Princess Eadlyn has grown up hearing endless stories about how her mother and father met. Twenty years ago, America Singer entered the Selection and won the heart of Prince Maxon—and they lived happily ever after. Eadlyn has always found their fairy-tale story romantic, but she has no interest in trying to repeat it. If it were up to her, she'd put off marriage for as long as possible.

But a princess's life is never entirely her own, and Eadlyn can't escape her very own Selection—no matter how fervently she protests.

Eadlyn doesn't expect her story to end in romance. But as the competition begins, one entry may just capture Eadlyn's heart, showing her all the possibilities that lie in front of her . . . and proving that finding her own happily ever after isn't as impossible as she's always thought.
2. P.S. I Still Love You (Again, another no-brainer! I sure am making this easy on you guys! 🙂
The first book, To All The Boys I've Loved Before, was yet another amazing romance story! No, not a story! It was more like an epic, or a fantasy. Well, not exactly a fantasy because when I think of "fantasy" and "romance," I think of boring. A perfect love story where nothing exciting or tragic happens to prevent the star-cross lovers from being together. Who would wanna' read that?! Boo!!! This book is the opposite of that. It's amazing. If P.S. I Still Love You is even a fraction as good as the first one, then I'll be happy! I really wanna' find out what happens with Lara Jean and Peter!!!!!! Check this out:
Lara Jean didn't expect to really fall for Peter.
She and Peter were just pretending. Except suddenly they weren't. Now Lara Jean is more confused than ever.
When another boy from her past returns to her life, Lara Jean's feelings for him return too. Can a girl be in love with two boys at once?
3. Isla and The Happily Ever-After (If you've seen my Twitter, Facebook, and Instagram feeds recently, you'll know that I'm absolutely, completely, and totally in love with the first two. Yesterday, I dubbed Lola and The Boy Next Door as my new favorite book. And the day before that, it was Anna and The French Kiss. Oh, and guess what! It's another YA romance!)
I chose this picture because I just gotta' have my boys!!! Although I think I liked Lola and The Boy Next Door better, Etienne will always and forever reside in the special heart in my part reserved for Zeke, chocolate, ice- cream, cupcakes, and all things sugary. At first I thought that since I didn't recognize any of the characters in the second one that Etienne and Anna weren't it, and I was heartbroken, but then I was elated because I discovered they were and it made me so, so, so, so, purely joyful! I tried the way the author tied them in there. I can't wait to see how she does it in this one! And I'm extra happy, because this book is set back in Paris!!! I didn't check this book out yet because I have tons of books due tomorrow :(, and I don't wanna' induce a reading slump, so….. Yeah.
Love ignites in the City That Never Sleeps, but can it last?

Hopeless romantic Isla has had a crush on introspective cartoonist Josh since their first year at the School of America in Paris. And after a chance encounter in Manhattan over the summer, romance might be closer than Isla imagined. But as they begin their senior year back in France, Isla and Josh are forced to confront the challenges every young couple must face, including family drama, uncertainty about their college futures, and the very real possibility of being apart.

Featuring cameos from fan-favorites Anna, Étienne, Lola, and Cricket, this sweet and sexy story of true love—set against the stunning backdrops of New York City, Paris, and Barcelona—is a swoonworthy conclusion to Stephanie Perkins's beloved series.
The only thing I don't like about this summary teaser is the word, "conclusion." Ugh!!!!
4. Blood Promise
I have been dying to read this. Dying. Guys, I wanna' tell you something but I don't know if it would be counted as a spoiler or not. So, I will settle for this;: Dimirti is a *******!!!!!!!!!!! Guys!!! And Rose is gonna' go *** ***!!!!!!! Or, it says in the teaser that she might turn herself into a ******* to be with him forever!!!! NOOOOOOOO!!!! Ok, I can't take it anymore!!! Bye, guys!! I'm gonna' go read this book. *sprints off to book bun but Amy drags me back to my laptop by my ear* Sigh. *says in monotone* Read this.
Rose Hathaway's life will never be the same.

The recent attack on St. Vladimir's Academy devastated the entire Moroi world. Many are dead. And, for the few victims carried off by Strigoi, their fates are even worse. A rare tattoo now adorns Rose's neck, a mark that says she's killed far too many Strigoi to count. But only one victim matters … Dimitri Belikov. Rose must now choose one of two very different paths: honoring her life's vow to protect Lissa—her best friend and the last surviving Dragomir princess—or, dropping out of the Academy to strike out on her own and hunt down the man she loves. She'll have to go to the ends of the earth to find Dimitri and keep the promise he begged her to make. But the question is, when the time comes, will he want to be saved?

Now, with everything at stake—and worlds away from St. Vladimir's and her unguarded, vulnerable, and newly rebellious best friend—can Rose find the strength to destroy Dimitri? Or, will she sacrifice herself for a chance at eternal love?
Dun, dun, dun… Exciting, right?
5. A Court of Thorns and Roses
I love Sarah J. Maas! Throne of Glass. No exclamations points here. Too serious. I mean, just think about how amazing this author is. Caleana… Chaol (I love the names so, so, much! *squeals*)… Dorian! *slaps myself lightly as to not damage the moneymaker* Stay focused, Nikki! You're here to talk about ACOTAR, not TOG! Right, so this book has gotten a ton of hype, especially from my cousin, (you may know her 🙂 Amy. She purchased this book and tried to make me borrow, but… I had to turn her down because I have almost fifty books checked out right now! (By the way, this is the like the only time you're never going to see me be responsible, so don't get used to it!) Anyway, I've heard that I love of people liked this book even if they didn't like TOG, so I think everyone should definitely give this book a try! And by "try", I mean pick it up, start reading, and fall into a crazy, obsessive love with it that causes them to twitch uncontrollably. 🙂
When nineteen-year-old huntress Feyre kills a wolf in the woods, a beast-like creature arrives to demand retribution for it. Dragged to a treacherous magical land she only knows about from legends, Feyre discovers that her captor is not an animal, but Tamlin—one of the lethal, immortal faeries who once ruled their world.

As she dwells on his estate, her feelings for Tamlin transform from icy hostility into a fiery passion that burns through every lie and warning she's been told about the beautiful, dangerous world of the Fae. But an ancient, wicked shadow grows over the faerie lands, and Feyre must find a way to stop it . . . or doom Tamlin—and his world—forever.
Um, yes please!!!
6. Uprooted
Okay, guys. This book looks so amazing and I have to SHOW you why. Behold:
"Our Dragon doesn't eat the girls he takes, no matter what stories they tell outside our valley. We hear them sometimes, from travelers passing through. They talk as though we were doing human sacrifice, and he were a real dragon. Of course that's not true: he may be a wizard and immortal, but he's still a man, and our fathers would band together and kill him if he wanted to eat one of us every ten years. He protects us against the Wood, and we're grateful, but not that grateful."

Agnieszka loves her valley home, her quiet village, the forests and the bright shining river. But the corrupted Wood stands on the border, full of malevolent power, and its shadow lies over her life.

Her people rely on the cold, driven wizard known only as the Dragon to keep its powers at bay. But he demands a terrible price for his help: one young woman handed over to serve him for ten years, a fate almost as terrible as falling to the Wood.

The next choosing is fast approaching, and Agnieszka is afraid. She knows—everyone knows—that the Dragon will take Kasia: beautiful, graceful, brave Kasia, all the things Agnieszka isn't, and her dearest friend in the world. And there is no way to save her.

But Agnieszka fears the wrong things. For when the Dragon comes, it is not Kasia he will choose.
Are you breathless right now like I am? I don't think I need any other explanation for this one. That's a wrap!
I know, I know. *braces myself for the avalanche of eggs and tomatoes I'm sure to be buried in* But I had to do; I had to. You know I did! *flashes a dazzling smile that makes you drop your eggs/tomatoes* Moving on!
7. City of Fallen Angels
I love this series so much, and I owe it all to you guys. So thank you! I never would have discovered this astounding series without this amazing book-loving community I'm so happy to belong to. Okay, I know this is long and you're getting bored, so I'll fangirl about you guys later. (Yes, that's right; you guys have your own, personal fangirl! *pushes up glasses* Zoinks!) This series keeps demanding my attention. Guys, it's like grabbing my chin and making me stare at it. It's that kind of attention-grabbing. It's sooooooooo good, and I just have to know what happens next! I HAVE TO KNOW!!!!!
The Mortal War is over, and sixteen-year-old Clary Fray is back home in New York, excited about all the possibilities before her. She's training to become a Shadowhunter and to use her unique power. Her mother is getting married to the love of her life. Downworlders and Shadowhunters are at peace at last. And—most importantly of all—she can finally call Jace her boyfriend.

But nothing comes without a price.

Someone is murdering Shadowhunters, provoking tensions between Downworlders and Shadowhunters that could lead to a second, bloody war. Clary's best friend, Simon, can't help her—his mother just found out that he's a vampire, and now he's homeless. When Jace begins to pull away from her without explaining why, Clary is forced to delve into the heart of a mystery whose solution reveals her worst nightmare: she herself has set in motion a terrible chain of events that could lead to her losing everything she loves. Even Jace.
Even Jace?!?!!?! She can't lose Jace!!! She just got Jace!!!!!! SHE RAISED HIM FROM THE DEAD!!!!!!!!!! Come on, Cassandra Clare!!! I'm starting to get mad at you!!! *puts fingers to head as if they were horns, and swipes foot on the ground like a bull* GRRRRRR!!!!
These next few are ones I've ordered before, but didn't get to read the first time because when you order fifty book at a time, unless you're a super fast reader, you don't to read them all. At least that's been my experience. (I think I have like OOD… Obsessive Ordering Disorder. It's a disease. Hehe! 😉
8. The Winner's Curse
I've heard a lot of hype about this book, and it was on a ton of blogs who I figured I'd order it. (It doesn't take much to convince me to order something.) Plus, the cover is sooooo pretty! I don't really know all that bunch about this book, so I guess I'm done. Wow. I feel… naked, like Amy said earlier. (And I just now realized that I could have gone and put links in… Oops! I'm too lazy to fix it, so… Enjoy!)
As a general's daughter in a vast empire that revels in war and enslaves those it conquers, seventeen-year-old Kestrel has two choices: she can join the military or get married. But Kestrel has other intentions.

One day, she is startled to find a kindred spirit in a young slave up for auction. Arin's eyes seem to defy everything and everyone. Following her instinct, Kestrel buys him—with unexpected consequences. It's not long before she has to hide her growing love for Arin.

But he, too, has a secret, and Kestrel quickly learns that the price she paid for a fellow human is much higher than she ever could have imagined.

Set in a richly imagined new world, The Winner's Curse by Marie Rutkoski is a story of deadly games where everything is at stake, and the gamble is whether you will keep your head or lose your heart.
Olala. *wink wink* 😉 😉 Okay, that was a little weird. Just a little.
9. Champion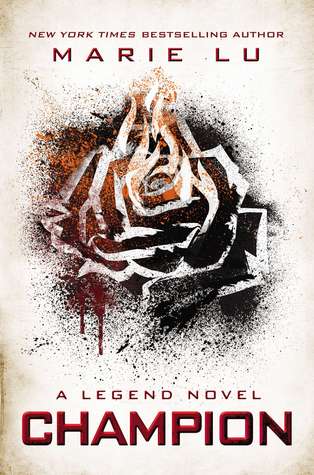 I read the other two, and loved them! They were so exciting, so fast-paced. June. Day. June! Day! June!!! Da- Hey! *gets cut off by a giant incoming tomato* How rude! Well, anywayyyyy, I loved them and cannot wait for the conclusion that I'm sure to love just as much. The only problem is… I don't really remember what happened in the first two. I mean, I get the general plot, but some of the details are kind of hazy… Oh, well. (By the way, The Young Elites, also by Marie Lu, is A-MA-ZINGGG! Read this! Now! *points random mysterious Shadowhunter weapon at you* Read it!)
He is a Legend.

She is a Prodigy.


Who will be Champion?

June and Day have sacrificed so much for the people of the Republic—and each other—and now their country is on the brink of a new existence. June is back in the good graces of the Republic, working within the government's elite circles as Princeps-Elect, while Day has been assigned a high-level military position.

But neither could have predicted the circumstances that will reunite them: just when a peace treaty is imminent, a plague outbreak causes panic in the Colonies, and war threatens the Republic's border cities. This new strain of plague is deadlier than ever, and June is the only one who knows the key to her country's defense. But saving the lives of thousands will mean asking the one she loves to give up everything.

With heart-pounding action and suspense, Marie Lu's bestselling trilogy draws to a stunning conclusion.
10. Fangirl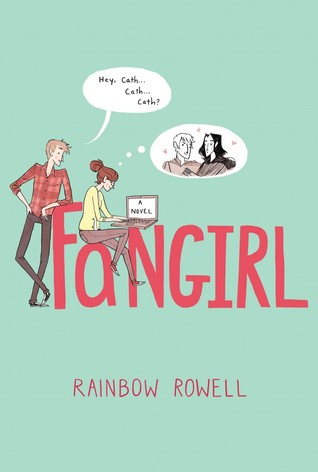 I have been meaning to read this book for. ev. er. Literally, man. If Eleanor & Park was any indication, Rainbow Rowell is a seriously kick-butt author. Big time. And this book looks sooooooo good! I say that a lot, but ya' gotta' trust me. This book has gotten a ton of hype, and probably for a good reason. I mean, look at the summary teaser. (Or synopsis, if you're boring.)
Cath is a Simon Snow fan.

Okay, the whole world is a Simon Snow fan…

But for Cath, being a fan is her life—and she's really good at it. She and her twin sister, Wren, ensconced themselves in the Simon Snow series when they were just kids; it's what got them through their mother leaving.

Reading. Rereading. Hanging out in Simon Snow forums, writing Simon Snow fan fiction, dressing up like the characters for every movie premiere.

Cath's sister has mostly grown away from fandom, but Cath can't let go. She doesn't want to.

Now that they're going to college, Wren has told Cath she doesn't want to be roommates. Cath is on her own, completely outside of her comfort zone. She's got a surly roommate with a charming, always-around boyfriend, a fiction-writing professor who thinks fan fiction is the end of the civilized world, a handsome classmate who only wants to talk about words… And she can't stop worrying about her dad, who's loving and fragile and has never really been alone.

For Cath, the question is: Can she do this?

Can she make it without Wren holding her hand? Is she ready to start living her own life? Writing her own stories?

And does she even want to move on if it means leaving Simon Snow behind?
Deep, man. Deep. And I totally ruined it by saying that. Moving on… before I embarrass myself any further.
And yes, I know this is eleven. I can count! I just learned how in kindergarten!
11. The Secrets We Keep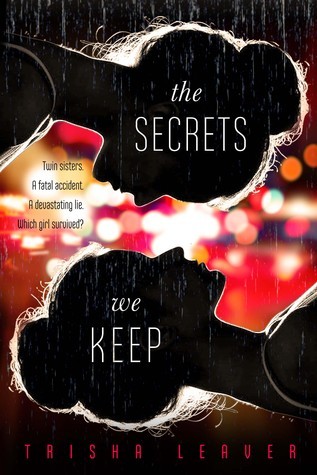 Isn't that a be-ee-a-uuu-tfiul cover?! I love it! I love it! I love it! For the longest time library computer program wouldn't let me order this book, and then it did, and then I was happy! Wanna' know why? Check this out:
Ella and Maddy Lawton are identical twins. Ella has spent her high school years living in popular Maddy's shadows, but she has never been envious of Maddy. In fact, she's chosen the quiet, safe confines of her sketchbook over the constant battle for attention that has defined Maddy's world.

When—after a heated argument—Maddy and Ella get into a tragic accident that leaves her sister dead, Ella wakes up in the hospital surrounded by loved ones who believe she is Maddy. Feeling responsible for Maddy's death and everyone's grief, Ella makes a split-second decision to pretend to be Maddy. Soon, Ella realizes that Maddy's life was full of secrets. Caught in a web of lies, Ella is faced with two options—confess her deception or live her sister's life.
Doesn't that just appeal to you? Doesn't it sound interesting? Well, it does to me.
But not quite yet…
Guys, my writing's been off a little. Sorry if it wasn't as entertaining and ridiculous as usual. But at least it had the typical Nikki length! It was long! Oh boy, was it long! Sorry this post was soooo long! I really should have thought to put in those links! Thanks for sticking with me… if anybody did! Before I go, there's one last book I think you guys should check out and that book is… The Wrath and The Dawn! Feast your eyes! I, Nikki, finally learned how to put in a link! (Amy taught me, of course!) *does embarrassing happy dance* Anyway… I have to go to my softball game! Wish me luck! Oh, and one more thing:
The End!
-Nikki